Doug Burgum Knows You Don't Know Him
Updated at 1:38pm ET on November 3, 2023
the phrase one percent could be used to describe Doug Burgum's socioeconomic status and, less gloriously, his national-polling average. On a recent Thursday night in New Hampshire, the North Dakota governor squared up to the reality of his presidential campaign: "The first question I get is 'When are you going to drop out?'"
He was speaking to about 100 people in a private back room at Stark Brewing Company, in downtown Manchester. Republicans had come together to celebrate the state GOP's 170th birthday, sheet cake and all. Burgum was the biggest star on the program, along with former Representative Will Hurd, who was a no-show after ending his own campaign three days earlier. The next-biggest name? Perry Johnson, a businessman who attempted to deliver his remarks by phone and, about a week later, would also drop out.
Burgum is an affable midwestern guy with virtually zero national name recognition. He spins his long-shot bid for the Republican nomination as "an entrepreneur's dream"—huge market potential. Like another one-percenter, Succession's Connor Roy, Burgum is fighting for his 1 percent in the polls: "Polling trails, you know, people's impressions." He's been running for president for about five months. His campaign profile on X (formerly Twitter) has just over 13,000 followers. He's not a fixture on Fox News. He hasn't written a best-selling book, or any book, offering voters a glimpse of his life. As you're reading this sentence, can you even conjure what his voice sounds like?
This summer, to qualify for the first Republican debate, each candidate had to secure at least 40,000 individual donors. As July 4 approached, Burgum's campaign had the idea to sell American flags for donations as a way to boost his numbers. But they soon pivoted to a savvier pitch: free money. Burgum's team would mail anyone who donated $1 a $20 prepaid Visa or Mastercard, dubbed a "Biden inflation relief card," netting the supporter $19 in profit. Burgum, who made millions in the software business, has described this plan as "a hack." Though he was criticized for it, he's executing it again as he hopes to qualify for this month's debate in Miami. The new thresholds are stricter: at least 70,000 donors and 4 percent of support in two national polls to make the cut. Currently, Burgum has the donors but not the polls. "We are optimistic he will make it," his spokesperson told me.
"Newt Gingrich said it the other day, twice to two different news outlets: Everybody should drop out because the race is already over. I heard that Newt's already picked the Super Bowl winner. So we're gonna cancel the NFL season. No games need to be played," Burgum told the brewery crowd. Most people in the room laughed. The woman standing next to me, scrolling through her phone, muttered that he had just reminded her to set her fantasy-football lineup.
Former President Donald Trump enjoys a ridiculously large lead in what has come to feel almost like a Potemkin primary. Burgum is among a handful of candidates who seem to earnestly believe that Republicans are still maybe, possibly, you never know, searching for an alternative. But whereas someone like Ron DeSantis has fashioned himself into a wet-blanket version of Trump, Burgum refuses to support book bans or cosplay as MAGA. He does not appear to be courting members of the old guard in the manner of Nikki Haley or Tim Scott. He's not firing off rhetorical napalm like Vivek Ramaswamy, or casting himself as the anti-Trump, like Chris Christie. What, then, is he doing? I spent a few days following him in New Hampshire, trying to figure that out.
---
B
urgum presents as a down-to-earth, slightly nerdy guy who spent most of his life in business and speaks softly, with a thick Fargo accent. (He's heard all of your wood-chipper jokes.) He has the requisite ego to run for president but freely admits that pretty much nobody outside North Dakota has any clue who he is. He insists that the modern electoral system is broken, and that, if he is to find any national GOP success, he'll need to be his honest, authentic, inoffensive self—nothing more. He says he is committed to avoiding the ugly reality-TV tropes of modern electoral politics. It is a noble goal. Is it doomed? Week after week, he presses on, spreading the gospel of Doug Burgum to small groups of people.
I watched Burgum and his entourage roll into Airport Diner, in southern Manchester. (Another long-shot candidate, the Democrat Marianne Williamson, had her campaign bus parked in the adjacent Holiday Inn lot; Burgum was traveling in a black SUV.) He stopped to chat with an elderly couple in matching blue shirts, but the conversation didn't seem to go anywhere. ("We're Democrats," the wife sheepishly told me a few minutes later.) At another table, a 78-year-old woman told me that some man had just come by, but she had no idea who he was. She said that God speaks to her and has told her that Trump is returning to office, but that there won't even be an election next year—Trump will merely resume his prior presidency. She was reluctant to share her name on the record. "I have lost a lot of friends," she said. Because of Trump? "Oh, yeah. But, hey, that's life."
Out on the trail, Burgum rolls his eyes at The Narrative—capital T, capital N—and scoffs at what he sees as the "nationalization" of the primary system. Cable news, coastal elites, anyone trying to pull a lever inside the Beltway—these are the forces stripping power away from regular people, in Burgum's view. In almost every speech, he takes umbrage at what he describes as the Republican National Committee's "clubhouse rules." Burgum disagrees with, among other things, the RNC's apparent eagerness to narrow the presidential field. He counters that Americans benefit from a large pool of qualified applicants, and that early-state voters should do the winnowing themselves. He often quotes his favorite president, Theodore Roosevelt: "Let the people rule!"
Like Roosevelt, Burgum projects an Americana-heavy image. He usually steps out in blue jeans and brown cowboy boots. He has praised those who take a shower at the end of the day versus at the beginning. He's eager to talk about his experience working at his family's grain elevator and his stint as a chimney sweep. He has a mop of thick hair, a strong jawline, and a hard-to-explain "just happy to be here" vibe. In August, on the eve of the first Republican debate, Burgum blew out his Achilles while playing pickup basketball. ("​​The skies were clear, but it was raining threes," he told a reporter.) He's been using a knee scooter to get around ever since, and told me that when he encounters long ramps, he likes to "let it rip" on his way down. His name is embroidered in big block letters on the blue puffer vest he wears almost every day. He's rarely in a rush to get out of interactions with strangers, and will be sure to ask, with genuine curiosity, "Where's home for you?" Burgum himself is from Arthur, North Dakota, population 323. No one from North Dakota has ever won the presidency or, for that matter, been a major party's nominee.
---
After finishing at the diner, he traveled north to Hanover, specifically Dartmouth College, where he sat for an interview with a reporter from the school's conservative newspaper, The Dartmouth Review, and taped an episode of a campus podcast. Later, during a town hall at the college's public-policy school, he told students that, thanks to AI, they were all "going to live to be a hundred." This sort of techno-optimism is something that separates Burgum from his competitors. Whereas Trump paints a picture of a failing, dystopian country in need of a supreme leader, Burgum's focus remains narrow and future-oriented. He waxes long about energy, the economy, and national security. His stump speech isn't exactly thrilling, yet it can be refreshing—if only because he avoids campaigning on the standard GOP culture-war themes.
Still, as governor, he's signed several hard-right bills: a near-total abortion ban, a bathroom bill, legislation preventing transgender children from receiving gender-affirming surgery. Additionally, in North Dakota, teachers must now notify parents or guardians if one of their students identifies as trans, and they are permitted to misgender their students. North Dakota is a deep-red state, and many of these bills reached his desk veto-proof. When I asked Burgum to help me understand the motivation behind all of this legislation, he grew defensive, insisting that it's not about discrimination.
"But like other things," he said, "what goes on in one state, it's not going to go in another … As president, I'm focusing on economy, energy, national security, and the limited set of things the federal government is actually supposed to do."
---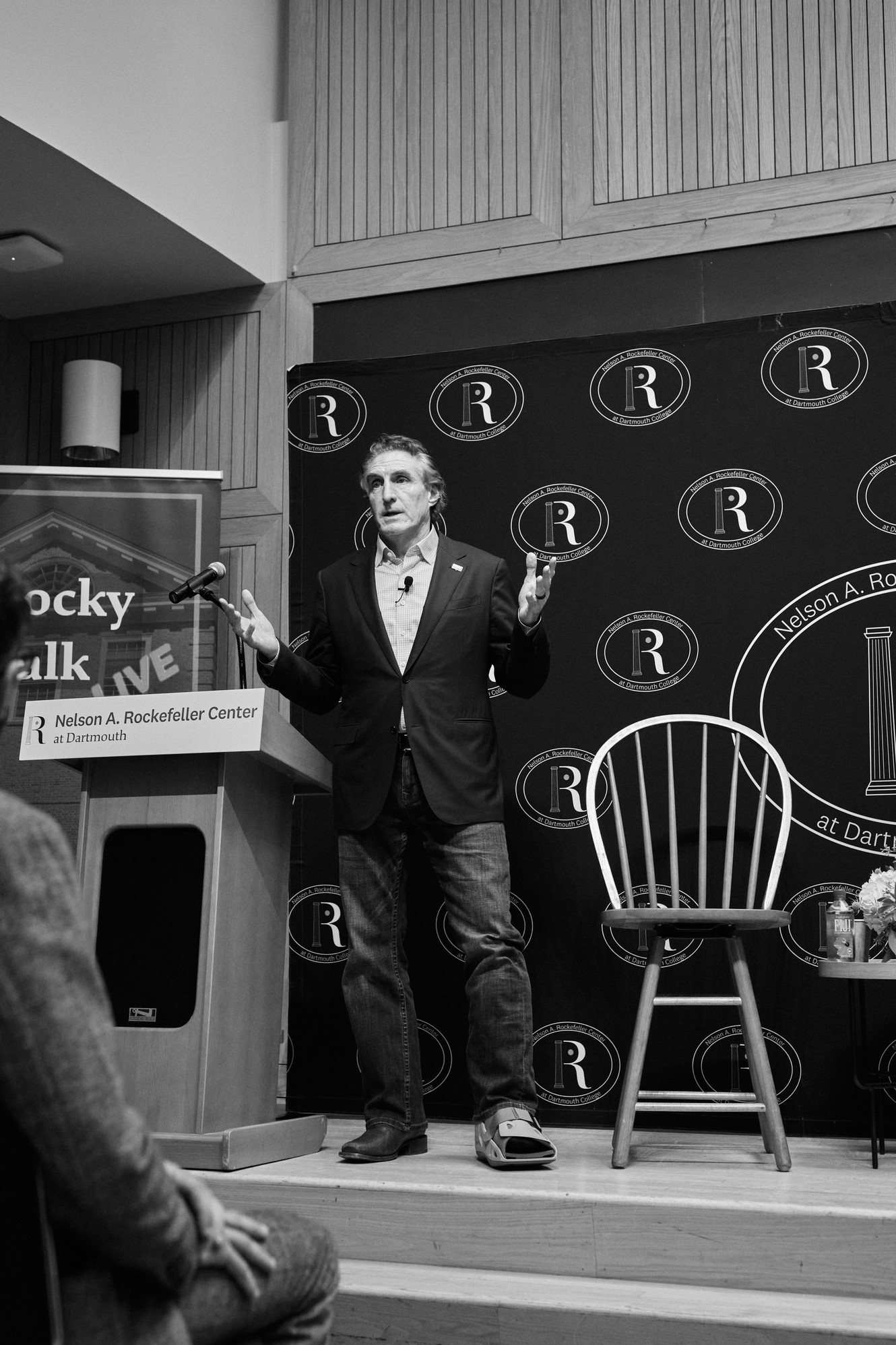 In high school, basketball was Burgum's passion, and it served as the backdrop of one of the defining moments of his life. He told me about a particularly cold Friday night during his freshman year. He was climbing aboard the team bus to an away game when the school principal pulled him aside. Burgum's father was in the hospital battling brain cancer; Doug had planned to visit the following day. The principal told him that he had to go to the hospital right away. Burgum was shocked; he'd believed that his dad was on the path to recovery. "No one was being honest with me about the fact that it was imminent," he said. His father died that night.
As Burgum told me this story, his stoicism slipped. His eyes welled up, and he let out a deep exhale. His family was not wealthy, and his stay-at-home mother immediately started working full-time more than 30 miles away in Fargo, at North Dakota State University. His two elder siblings were now also living in Fargo. His mom wanted to move there, but he says he was stubborn, and refused to leave the basketball team in Arthur. "I didn't understand the level of economic insecurity," he said. In practical terms, this meant that his mom would often stay in Fargo overnight instead of commuting back and forth. Burgum told me he spent most of his high-school years alone, fixing things around the house in his father's absence.
"My mom was good at all these things, but she didn't know how to grieve. Her solution to grieving was to go back to work and just kind of bury it," he said, later adding, "So I developed this incredible work ethic that kind of mirrored my mother, which was: Just work your way through."
After finishing his undergraduate degree at North Dakota State, Burgum went on to Stanford for business school, spent three years in Chicago working for McKinsey, then returned home. He likes to say he "literally" bet the farm when he mortgaged his family farmland in order to get a computer-accounting business, Great Plains Software, off the ground. "There is a bit of, I think, geographic bigotry that actually exists in our country, where people that haven't been to places, they assume that we're still, you know, plowing fields with horses or something."
His wife, Kathryn, is the sister of one of Burgum's fraternity brothers from North Dakota State. Burgum almost always uses the first-person plural pronoun we when discussing his political career. On the campaign trail, he praises his wife's courage.
She later told me some of her story. When the couple first started dating, about two decades ago, Kathryn was newly in recovery. She had begun drinking during high school, using alcohol to self-medicate. "I had anxiety and depression and didn't really have anybody to talk to about it," she said. She then spent 20 years trying, and failing, to stop. She was constantly blacking out. She told me she didn't know people who could have only a single glass of wine, or who could choose not to drink, because they were driving home. "I didn't have deep relationships even with my family, because addiction gets in the way of all that," she said. During her darkest days with booze, she became suicidal.
For years, Kathryn worked to keep her recovery a secret from most everyone in her life, and she credits Burgum with being supportive throughout her sobriety. In 2016, when he told her about his plan to run for governor, she had a flash of panic: How am I going to handle all these people all the time? All of these events have alcohol. The couple reached an agreement: She could leave, or simply skip, any event she wanted to. When Burgum won the election, Kathryn decided to finally talk publicly about her addiction.
At a USA Today–network town hall in Exeter, Burgum described his wife's journey as she looked on from the front row. He also made a plea for more compassion toward people with drug addiction who have committed crimes. He decried the obstacles that nonviolent offenders face after they leave prison, including trouble finding housing and employment: "We have legalized discrimination against people who had a disease—a brain disease that led them into that spot." His stance is forward-thinking. It's also out of step with much of the GOP. Were he to move up in the polls, he'd almost certainly be attacked by his peers as soft on crime.
---
While Trump continues to float miles above his Republican competitors, the rest of them dutifully show up to various "cattle calls" in the early states. One such event, the New Hampshire GOP's First in the Nation Leadership Summit, took over a Sheraton the weekend I was following Burgum. Reporters and camerapeople and the cast of Showtime's The Circus stalked the grounds looking for something—anything—resembling a story. As Burgum and Mike Pence momentarily exchanged pleasantries in the lobby, journalists materialized en masse, then vanished; no meat to be had. (Pence would drop out just over two weeks later.)
Burgum navigated the crowded hallways on his scooter. He recorded a podcast next to an area where Kevin Sorbo, the Hercules actor turned right-wing culture warrior, sold copies of his books. He also sat on a national-security panel with Senator Joni Ernst of Iowa. (At one point, Burgum fired off a seemingly improvised joke about how Iowa is "Canada's Florida.") During the Q&A, an audience member asked what could prevent someone like Bill Gates from buying up all of America's farmland. Burgum gently pointed out that agriculture is far less concentrated than people believe. Gates, he said, is already among America's largest private owners of farmland, but that means he has a fraction of a percent of what's out there. It was a surprising statistic—though perhaps not as surprising as watching Burgum instinctively defend one of the GOP's biggest bogeymen.
In 2001, Burgum and his associates sold Great Plains to Microsoft for $1.1 billion. That deal has led many people to infer that Burgum himself is a billionaire. During our interview, after he continually sought to portray himself as an underdog, outsider candidate, I asked him if the phrase billionaire underdog might be considered an oxymoron. He strongly denied that he's worth $1 billion. Even after much prodding, though, he refused to share his exact net worth. (It's reportedly in the hundreds of millions of dollars.) So far this year, he's lent his campaign more than $12 million of his own fortune. His super PAC, Best of America, has raised about that same amount, notably with the help of his cousin Frederick Burgum, who donated $2 million. But I was most interested in his relationship with Gates, the single biggest donor to Burgum's 2016 gubernatorial bid.
I asked Burgum what Gates is like as a person.
"It'd be a good question for him, I suppose."
"Well, I mean, aren't you friends?"
He said that he has observed an "evolution" in Gates over the four decades they've known each other, then remarked, "He's the most, you know, one of the most misunderstood people that we have in America right now."
Burgum said that Gates and his ex-wife, Melinda, have saved more lives than anyone "probably in the history of the planet." I asked Burgum how he plans to reckon with the portion of the GOP electorate—those who adhere to conspiracies such as QAnon and Pizzagate—who believe that Gates drinks the blood of children.
Burgum said that he knows how to talk to voters "of all stripes and beliefs," and that, if you're going to lead people, you have to meet them where they are. Still, he said, "there are some people that believe things, and they believe 'em like it's religion. And you're sort of asking me, What would I say to them? Well, you can't tell them to stop believing [their] religion if they believe it. In politics, you have to say, then, that that voter may or may not be available."
I found his willingness to draw lines admirable, but it didn't extend to Donald Trump. He likes to say that, as governor of North Dakota, nukes are in his backyard. ("I have friends who, literally, they farm here and the nuclear silo is right there," he told me.) I asked him if voters can trust Trump with the nuclear codes. He paused. "Voters will have to decide that," he said. I asked him if he, Doug Burgum, trusts Trump with the nuclear codes. He dodged: "Nuclear weapons exist for one reason." I asked him for a yes-or-no answer. He responded, "So when you say 'trust him,' what does that mean?" I noted that people in the Department of Defense—including former chairman of the Joint Chiefs of Staff Mark Milley—have specifically said that Trump can't be trusted with the nuclear codes, and that although many questions understandably have gray answers, this one seemed black-and-white. He paused again, then eventually offered another trained-politician answer.
"I think it's a question of, do we think that nuclear weapons act as a deterrent for our country? And if you think we have a president that will never use them, then they don't work. If you have a president that will use them, they do work. And it's partly not what we think. It's partly what the enemy thinks. And if the enemy thinks that we have a president that will actually launch a nuclear weapon, then the deterrents work. And so, I think we have to look at who they're pointed at, not just who's pulling the trigger."
---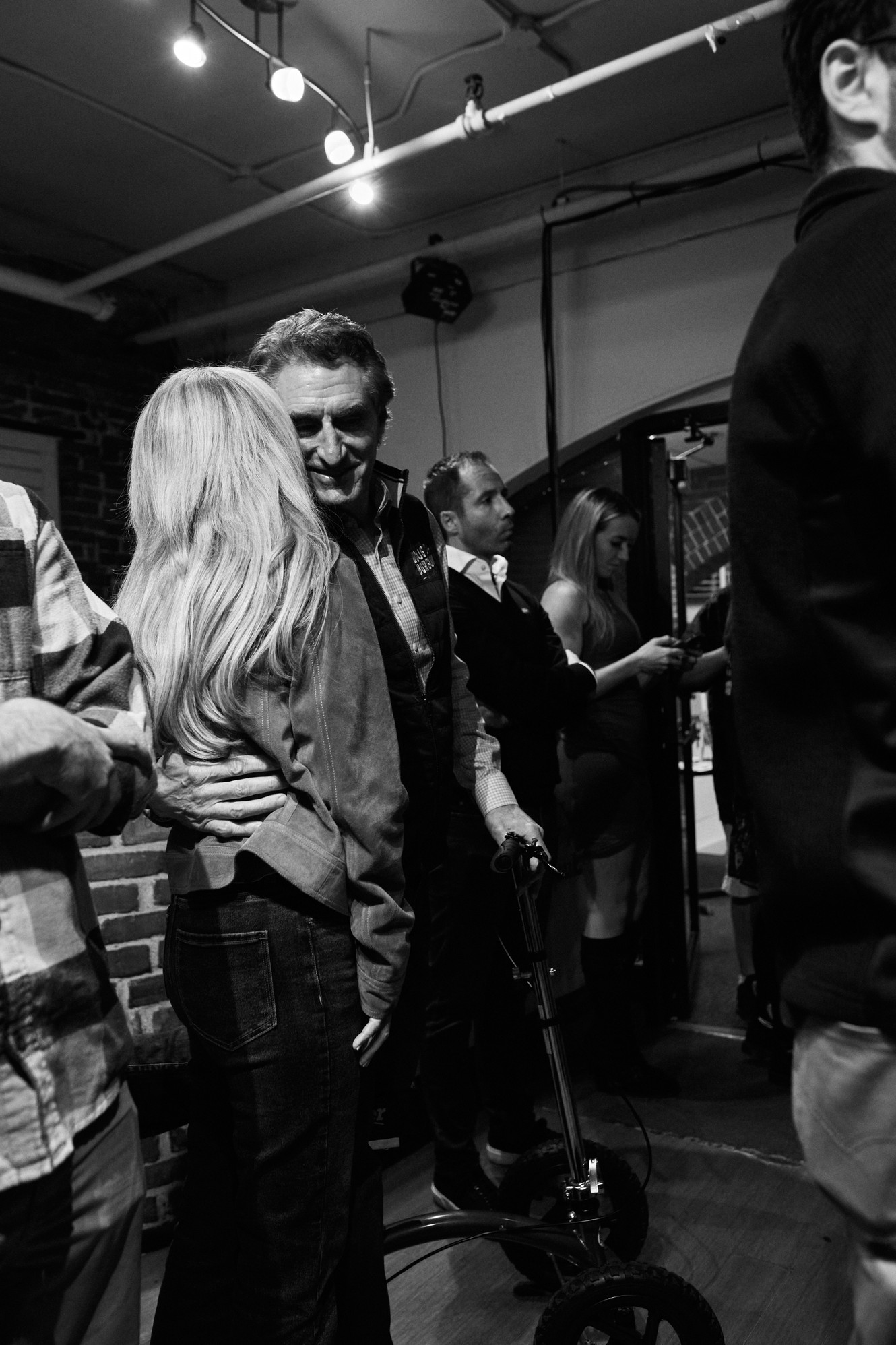 The next morning, Burgum and his team wandered among rows of tailgaters outside a University of New Hampshire football game. A Fox News reporter filmed a quick-hit interview with the governor while students played touch football in the background. (One wide receiver dramatically spiked the ball after completing a slant route that took him right past Burgum and toward a Dumpster.) Tailgaters looked on quizzically, or not at all, as Burgum and his entourage sauntered by.
"Oh, it's Doug!" someone in dark sunglasses called out. The man, 28, told me that he's from Boston and has the type of job where he can't share his political views with his name attached. He said he voted for Joe Biden in 2020 but lost respect for him after he appeared to go back on his implicit promise to serve only one term. He added that he appreciates how Burgum seems like "a genuinely good person" and isn't a career politician, though he'd like to see him move up in the polls.
A middle-aged woman offered Burgum a homemade cheesesteak. He accepted, and held the greasy bread in his bare hand for minutes before another tailgater offered him a napkin. He took a bite, but not before wisely asking the Fox News person not to film him eating.
Kickoff was soon approaching. The tailgaters showed no signs of packing it in. Grills sizzled; beers were pounded; beanbags thunked against cornhole sets. Burgum waved and smiled.
Three girls were standing at a distance, alternately watching him with the cheesesteak and fiddling with their phones.
I asked one of them if she knew anything about Doug Burgum.
"What's he running for?" she asked.
"President."
"Good for him," she said.
---
This article originally stated that Doug Burgum worked for McKinsey for two years. In fact, he worked there for three years.