MarvelBlog News for October 22nd, 2023
This week: we finally ask the question everyone wants to know.
Will Taylor Swift appear in Deadpool 3? Apparently, I'm doing clickbait this week in MarvelBlog News!
The Deadpool 3 Update
Well, the SAG-AFTRA strike didn't end as I'd hoped this past week.
Just when the parties appeared to be moving forward with an agreement, it all fell apart with studio representatives walking away from the negotiating table.
For Deadpool 3 director Shawn Levy, that's an additional stressor at a time when he's already pretty much maxed out.
Marvel had previously advanced Deadpool 3 from its intended release date in November 2024.
Since the production was so far ahead of schedule, with principal photography going exceedingly well, Marvel chose May 3rd, 2024.
Then, the strike totally shuttered the production, with Levy left to plan how to film quickly once the studios and actors agreed to new terms.
That hasn't happened yet, but Marvel has recently provided mixed signals about whether Deadpool 3 will keep its May 3rd date.
Each passing week with a strike reduces those odds, something Levy knows all too well.
However, the director is now facing a side distraction.
During a recent NFL game, Kansas City Chiefs Tight End Travis Kelce once again had a fan cheering him on in his family's suite at the stadium.
Unless you've been living under a rock, you know that Kelce is dating Taylor Swift.
During her second appearance at one of his games, the world's most famous singer joined a couple of other celebrities.
Fans couldn't help but notice that two of them were Ryan Reynolds and Hugh Jackman.
Hey, who are the stars of Deadpool 3? Oh, right…
Yes, Swift's decision to hang out with them in such a public setting has generated even more headlines.
People now believe a longstanding rumor that Taylor Swift is about to join the MCU.
The Dazzler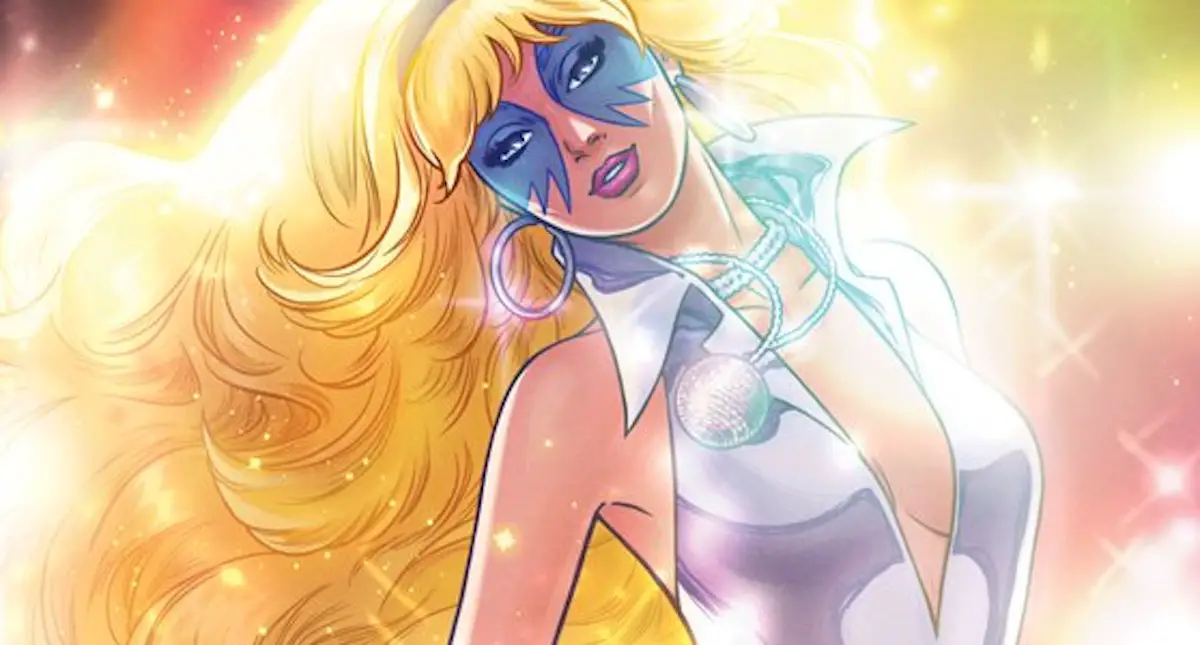 In a way, this rumor is either meta or life imitating art, depending on your perspective.
In Marvel comics, Alison Blaire develops a mutant ability. She realizes that she can convert sound vibrations into bright lights and energy beams.
In other words, Blaire can weaponize her voice. But she can also put on a kick-ass concert.
That's because her abilities add a great deal of pageantry to a performance. She can dazzle the crowd with her mutant abilities.
Not coincidentally, Dazzler became an extremely popular music diva…at times.
One of the running storylines involved Dazzler's mutant powers frequently hurting her career. At times, she hid them from the public.
In other instances, she couldn't perform at shows or record new music due to X-Men obligations.
That's the way Marvel used her decades, as Dazzler vacillated between being one of the most popular musicians in the world and a washed-up has-been.
Also, there's an obscure prophecy (or promise?) by an X-Man from the future, Bishop, that Dazzler is one of the most significant Mutants.
So, the character started from humble roots – she was almost named Disney Queen! – but evolved into a terrific character and a strong female protagonist.
With Deadpool 3 serving as both the capper on Fox's X-Men universe and the start of the MCU's Mutant stories, the inclusion of Dazzler makes sense.
Now, Swift, whose concert movie just opened to $92.8 million, appears to be portraying the role.
Nobody at Marvel is talking, nor is anyone in Swift's camp.
However, the prevailing belief is that she planned this football game appearance with Reynolds and Jackman as early marketing for the film.
Also, given what we've seen with the concert movie and NFL ratings when Swift appears, her presence in Deadpool 3 could dramatically impact its box office.
Marvel Miscellany
We've got a few quick hitters this week. First, there's a belief that we'll get a Madame Spider trailer this week, possible as early as tomorrow.
We also just learned that the run-time for The Marvels is 104 minutes, although reports suggest that a full ten minutes of that comes from the credits.
As a reminder, tickets are already on sale for the film, which reportedly isn't tracking well.
However, the same thing was said of Guardians of the Galaxy Vol. 3, which performed very well.
Meanwhile, Disney+ fans are in luck. Spider-Man: Far from Home will join the service on November 3rd!
Disney and Sony have agreed to the licensing of several joint projects released through the latter film studio.
As of November 3rd, all of Sony's Spider-Man movies except Spider-Man: No Way Home will be available on Disney+.
Fans of that film must watch it on Starz for the time being, but it will come to Disney+ at some point.
Also, there's a story I'm still researching that I may cover more extensively in a week or two.
According to Joanna Robinson, "We have a quote from Kevin Feige sort of implying… that like Secret Wars will serve as a soft reboot in which they can prune everything.
That's not to use a Loki-ism. Prune everything that's not working and just keep what is [working], or bring back people you thought were gone forever."
Who is Joanna Robinson? She's the author of MCU: The Reign of Marvel Studios, an official Marvel product. So, she would know.
The thought process is that Marvel built some stars previously. It should use them more. And it would tie into the full reboot of Marvel television, too.
Thanks for visiting MarvelBlog.com! Want to go to Disney? For a FREE quote on your next Disney vacation, please fill out the form below, and one of the agents from MickeyTravels, a Diamond-Level Authorized Disney Vacation Planner, will be in touch soon!
Featured image: Marvel