Gary Neville: It's getting hot for David Raya | Jamie Redknapp: Mikel Arteta has complicated situation | Football News
Gary Neville believes David Raya is starting to feel the pressure as Arsenal's goalkeeper after an error-strewn performance in the Gunners' 2-2 draw with Chelsea, while Jamie Redknapp says Mikel Arteta has "complicated a situation he didn't need to" by bringing in Raya to compete with Aaron Ramsdale.
Arsenal had looked on course for their first defeat of the season when Raya was caught out by Mykhailo Mudryk's mishit cross at the start of the second half. The former Brentford goalkeeper also looked under pressure with the ball at his feet, just as he did in the first half against Manchester City before the international break.
Speaking on commentary during the game at Stamford Bridge, Neville said Raya looked like a goalkeeper who needed "help" and argued having both Raya and Ramsdale in the Arsenal squad competing for the No 1 shirt couldn't work.
FREE TO WATCH: Highlights from Chelsea's Premier League clash with Arsenal.

Neville said: "David Raya started his Arsenal career well but then he had a poor Champions League game [against Lens] followed by that first half against Manchester City.
"Now, this game. It's getting hot for him. He's got that look on his face like, 'help'.
"It's the toughest position to play and certainly when you're at one of the biggest clubs in the league, you're under the most amount of scrutiny – particularly if you're a goalkeeper.
"Mikel Arteta has created that, let's be clear with the Ramsdale and Raya situation. It's unusual but he says it can work.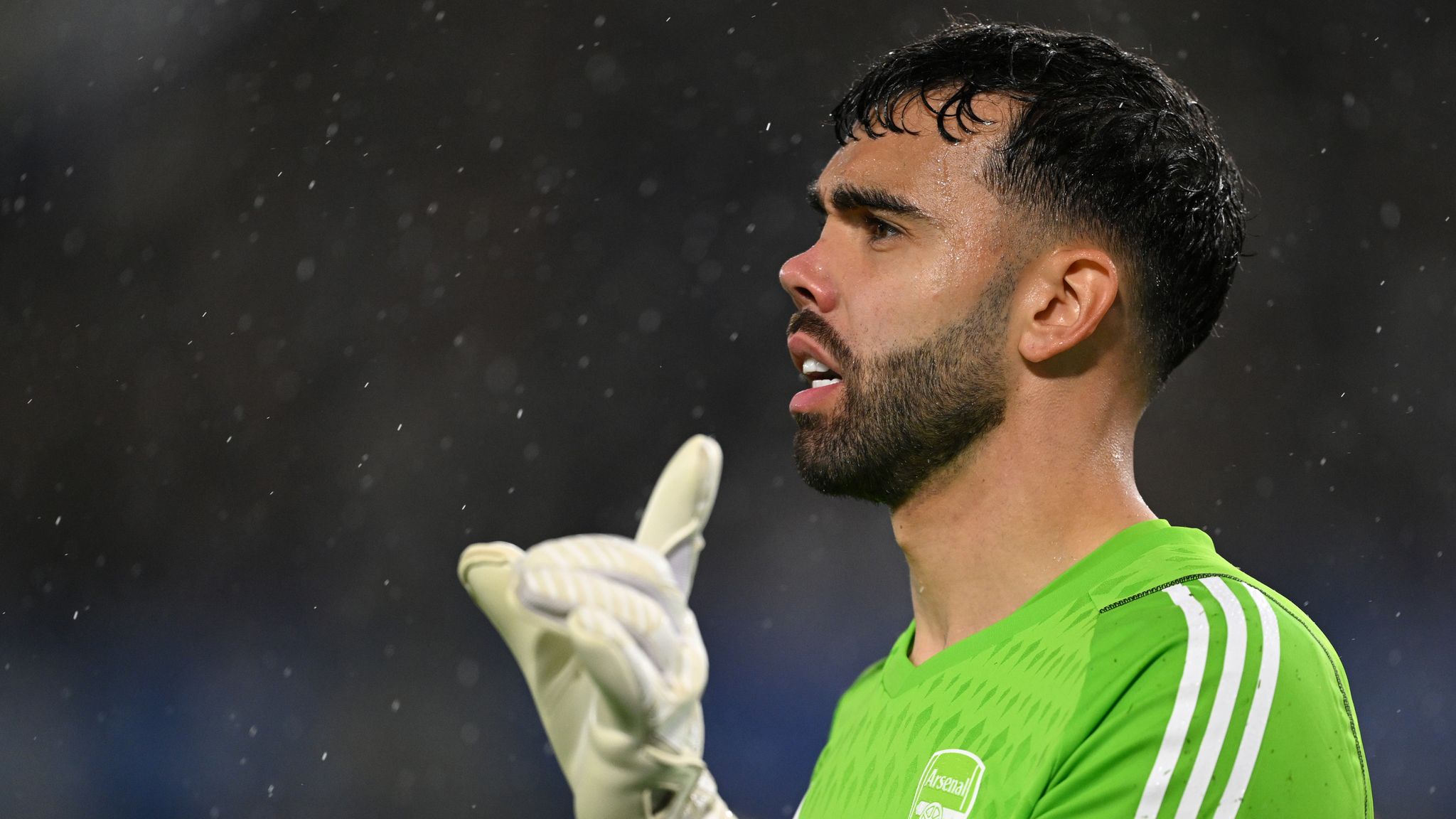 I haven't seen it again since when I saw it live. It looked like a strange action, I couldn't tell if there was a deflection to change the trajectory of the ball …
"I've never believed it could, and I believe we're seeing in front of our eyes the challenges that exists because now, there is going to be pressure.
"Aaron Ramsdale hadn't done a lot wrong at the start of the season. Raya has now started to make mistakes."
Speaking later on the Gary Neville Podcast, Neville added: "If a goalkeeper makes a mistake, that's the goalkeeper's problem. The issue is that there is a very good goalkeeper on the bench that hadn't done anything wrong.
"It surprised us all when Aaron Ramsdale was left out of a game a month or so ago. We thought it might be for a couple of games, but now it looks as though David Raya is No 1. The problem is he's started to now look nervy and is making mistakes.
"I've been there with Manchester United where the manager brought in another goalkeeper for competition – this was the greatest manager of all time.
"It was when Roy Carroll and Tim Howard were there. People might say, 'they're not as good as Raya and Ramsdale', it doesn't really matter. It's a case of two goalkeepers of equal ability and you don't know who your No 1 is – you've got an issue.
'I love him and I will sing as well for him'
Mikel Arteta after being asked about what he made of the Arsenal fans chanting for Aaron Ramsdale:
"Great. I love him and I will sing as well for him every single day. We sang a lot for him yesterday because he became a father – the most beautiful thing. He's someone that has this charisma and personality and he's very loved around the team."
"It happened a little bit for England when Tim Flowers was doing brilliantly with Blackburn and David Seaman was there, but quite clearly Terry Venables named Seaman as his No 1. He was adamant.
"I do feel there's a problem brewing here where Ramsdale is going to start knocking on the door saying, 'get me back in' and if [Arteta] doesn't, he's going to ask to leave.
"So even though it looks like there's competition for places in the goalkeeping positon, it won't last long this. The maximum this will last is a season because the goalkeeper who is not playing or is feeling hard done to will leave.
"I don't think it can work, and I'm not seeing anything that is telling me it can work. It puts more pressure on the one that's in because he knows the other guy is waiting in the wings."
'Raya looks a bag of nerves'
Mykhailo Mudryk catches out David Raya to give Chelsea a 2-0 lead.

Meanwhile, Redknapp believes Arteta has created a situation he didn't need to with his goalkeepers and says Ramsdale, who was absent from Arsenal's squad for the trip to Chelsea after the birth of his son, should stay and fight for his place at the Emirates Stadium.
Redknapp said: "Raya is now going to come under a lot of scrutiny. There's no doubt that Mudryk wants to cross it for his goal. If you look at Raya's positioning before the cross that is a David Raya position. It's very aggressive. Normally, I would want my goalkeeper two yards further back just to make sure you don't get caught with the lob.
"But he's looking to be aggressive and on the front foot. I think it's a bad position. A lot is going to be said about Aaron Ramsdale now, but I actually think you should forget about Ramsdale for a second… what's happened with this situation is that it's made [Raya] look worse.
Sue Smith and Stephen Warnock discuss the Arsenal goalkeeper's 'nervy' first-half display against Manchester City at the weekend, his recovery in the second-half and competition with Aaron Ramsdale.

He added: "He looks like a bag of nerves right now. Raya is really struggling with the pressure and the scrutiny he's under. He's giving the ball away, he's looking like he's always going to concede goals. The situation hasn't helped him.
"People have said that Aaron Ramsdale should consider leaving, but I disagree. I think he should hang in there given the way Raya has given away so many goals. He's not showing that he's good enough to be No 1.
"Mikel Arteta has complicated a situation that he really didn't need to."
Chelsea come close to adding a third after a David Raya error.

Oliver Yew is joined by Sam Blitz on 'The Question' to discuss if David Raya has replaced Aaron Ramsdale as Arsenal's No. 1.

Before the game, Aaron Ramsdale said it felt "strange" how much attention was being paid to his battle with Raya to be Arsenal No 1 – but admits he fears for his England future if he does not win it.
"There's a lot of attention and it's a position which is famously said; 'if you're not spoken about means you've done a good job', and there's a lot of talk at the minute.
"Whether it is me or David who plays we need to be able to just focus and play but at the same time, it's a strange, big headline… we have to deal with it and that is what we are doing."
'Two No. 1s is always going to be a problem'
Jimmy Floyd Hasselbaink on Sky Sports said:
"He's guessing where the ball is going to go. As a goalkeeper, you can't do that. You have to be in the right position, especially with his height. He's not the biggest. When the cross comes in, he's taking a step forward.
"Raya and Ramsdale are both No. 1s. You know when you bring in two No. 1s, that's always going to be a problem."