'A beautiful moment' – Arsenal boss Mikel Arteta expects warm West Ham welcome for Declan Rice | Football News
Mikel Arteta believes Declan Rice's potential return to West Ham will be "beautiful" – if the Arsenal manager decides to play the midfielder in Wednesday's live on Sky Sports Carabao Cup clash.
The 24-year-old England international moved across London in the summer, the Gunners paying a club-record £105m to prise him away from the Hammers.
Rice, who captained West Ham to victory in the Europa Conference League final in the last of his 245 games for the club he joined at the age of 14, could be in line for his first return to east London having shone in the opening months
of his fledgling Arsenal career.

Wednesday 1st November 7:00pm


Kick off 7:30pm

Arteta on Rice's West Ham return: 'A beautiful moment for him'
"It will be his first time back at his old club and a beautiful moment for him, I think," Arteta said on the eve of the fourth-round tie.
"I think it is beautiful. I had a chance to do it a few times and then you really see what they think of you and what you left at the club."
Watch West Ham vs Arsenal live on Sky
Watch West Ham vs Arsenal in the Carabao Cup fourth round, live on Sky on Wednesday; kick-off 7.30pm.
Arteta feels Rice will receive a warm welcome from the West Ham fans, adding: "Every time you hear him talk about West Ham and what they did for him and everybody at the club, he cannot talk any higher of them, so hopefully they will be the same way towards him."
While Arteta suggested it was "likely" Rice would be involved in the game in some way, he was rested entirely for the 1-0 win at Brentford in the previous round.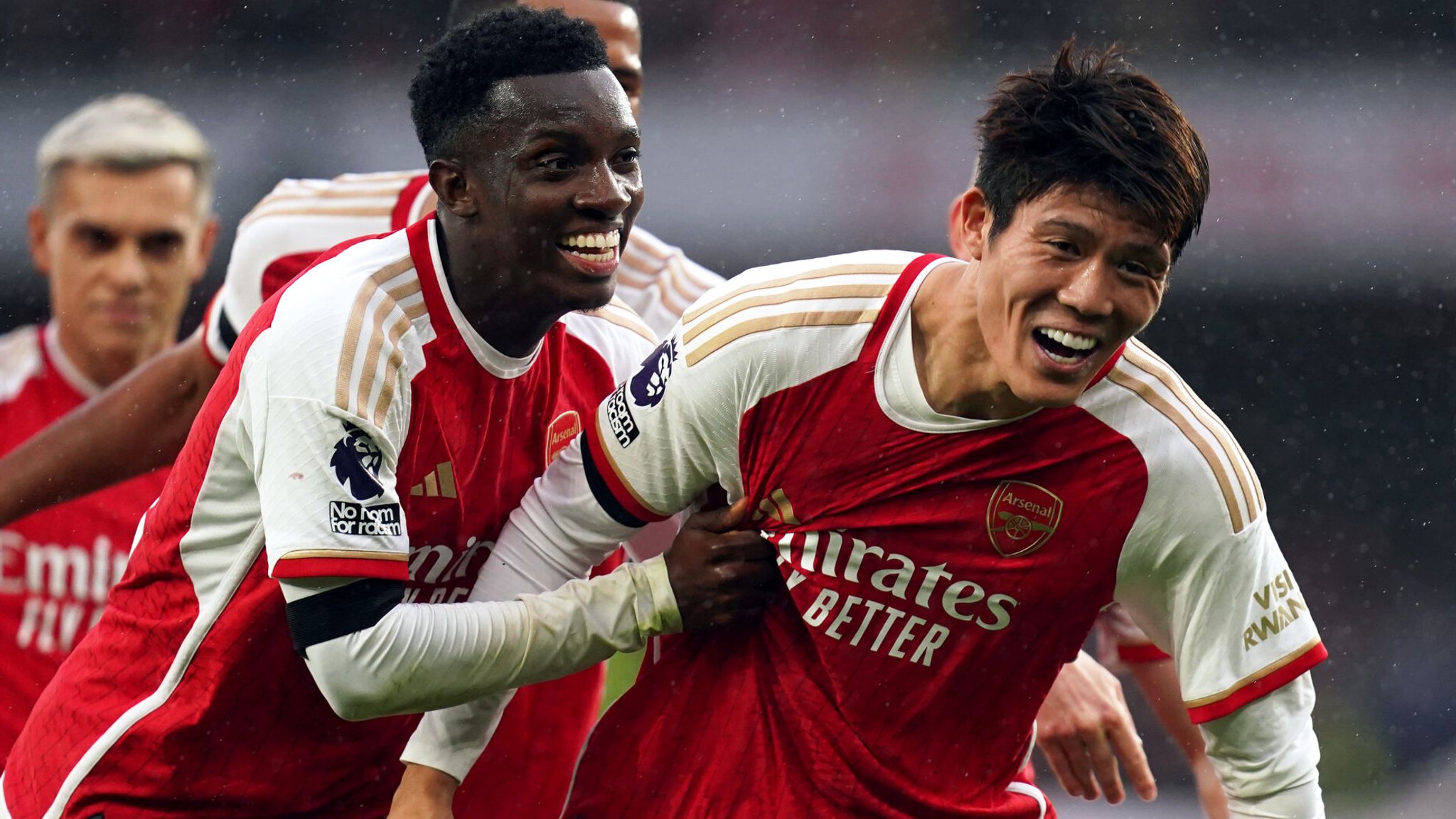 It's a competition that we have the chance to progress and win a trophy.
The Spaniard made a total of eight changes for the victory in west London but insists the Carabao Cup – which he won twice as a coach at Manchester City – is still a major honour.
"It's a competition that we have the chance to progress and win a trophy and our mindset has to be focused on West Ham," he said.
"I live it exactly the same as the Premier League (on Wednesday). I have the same thing in my tummy and the certain thing and same way to prepare and I'm going to be there, closer to the game, and I just want to win the game for sure.
"Even if you are doing rotations, I think the role of the players that are now committed to challenge for this trophy or for this game, I think it's critical for them to show what they can do."
Partey set to be out 'for weeks'
Mikel Arteta discussed the reasons behind resting Martin Odegaard against Sheffield United and also feels they need to be cautious about the time frame that Gabriel Jesus will be sidelined for

Gabriel Jesus will not feature despite Arteta revealing the striker is "already pushing" to return from a hamstring injury suffered in a Champions League win at Sevilla last week.
Captain Martin Odegaard is again likely to be rested as he recovers from a hip complaint, while Arteta admitted to "concerns" over Thomas Partey's most recent setback.
The Ghana midfielder missed just seven games in five years at Atletico Madrid but has been plagued with issues since joining Arsenal in 2020 – sitting out 53 fixtures for club and country in that time.
"I think that he will be out for weeks," Arteta said of Partey's latest injury.
"It is a big concern because, when Thomas is fit and available and he's been part of the team, we have seen what the results and the impact that he has on the team.
"This season we have more protection, especially for that reason as well because we know in the past two seasons what has happened and the impact that it had on the team, so we had to address that."

Live: SNF



Saturday 4th November 5:00pm

Sky Sports' Ron Walker is joined by Oliver Yew to discuss whether it is time for Mikel Arteta to bring Aaron Ramsdale back into the Arsenal side for David Raya

Analysis from Sky Sports' Simeon Gholam:
"I've never believed it could [work], and I believe we're seeing in front of our eyes the challenges that exists because now, there is going to be pressure."
Those were the words of Gary Neville in relation to Arsenal's goalkeeper conundrum, but he is not alone there. Even Arsene Wenger has weighed in to the great David Raya-Aaron Ramsdale debate.
"I don't believe in rotation with goalkeepers," said the legendary former Gunners boss. "I don't believe in a lack of clarity of the hierarchy with goalkeepers. That doesn't work."
Sue Smith and Steven Warnock weigh-in on the debate about whether David Raya should be Arsenal's first choice as goalkeeper over Aaron Ramsdale after some shaky recent performances

Arteta insisted when Raya arrived that he had no clear No 1 option. His team selections since have proven that to be somewhat misleading, and even a shaky Raya performance or two hasn't led to him dropping the new man for Ramsdale, or even backing up his wild claim he may make a tactical in-game substitution between the sticks.
Ramsdale will now make just his second appearance since being dropped, but his clean sheet at Brentford in the last round of the Carabao Cup didn't do anything to improve his chances of seeing action in the Premier League or Champions League.
All he can do is try and put in a good performance at West Ham, and see if it moves Arteta into reconsidering his current stance.
Watch West Ham vs Arsenal live on Sky Sports in the Carabao Cup fourth-round on Wednesday; kick-off 7.30pm