Angela Hill: The UFC fighter whose family are part of UFO folklore
UFC strawweight Angela Hill has many interests. She is a high-level mixed martial artist, a cosplayer, a fan of video games and a believer that "the truth is out there".
Hill is a follower of the extra-terrestrial, a watcher of the skies – she has no doubt that aliens exist, and there is good reason for it.
Her family has a special place in UFO folklore.
On a September night in 1961, Hill's grandparents, Barney and Betty, believed they were abducted by aliens.
"It has always been a part of our family history," Hill tells BBC Sport.
"It has always been a fact to us. We know something happened, even if it isn't exactly what has been put out there."
It is one of America's most famous alien abduction tales and has been adapted into a best-selling book, The Interrupted Journey, and TV show The UFO Incident.
Barney and Betty said they saw an unusual spacecraft when driving back to their home in Portsmouth, New Hampshire after a vacation at Niagara Falls in 1961.
The married couple were unable to account for around three hours of that journey – believing they had been abducted.
Hill says: "It was one of those things I always knew about, and I didn't think it was weird until I mentioned it to a friend and then they would look it up.
"It was a really big deal that you could Wikipedia my grandfather."
'Looking for answers out in the stars'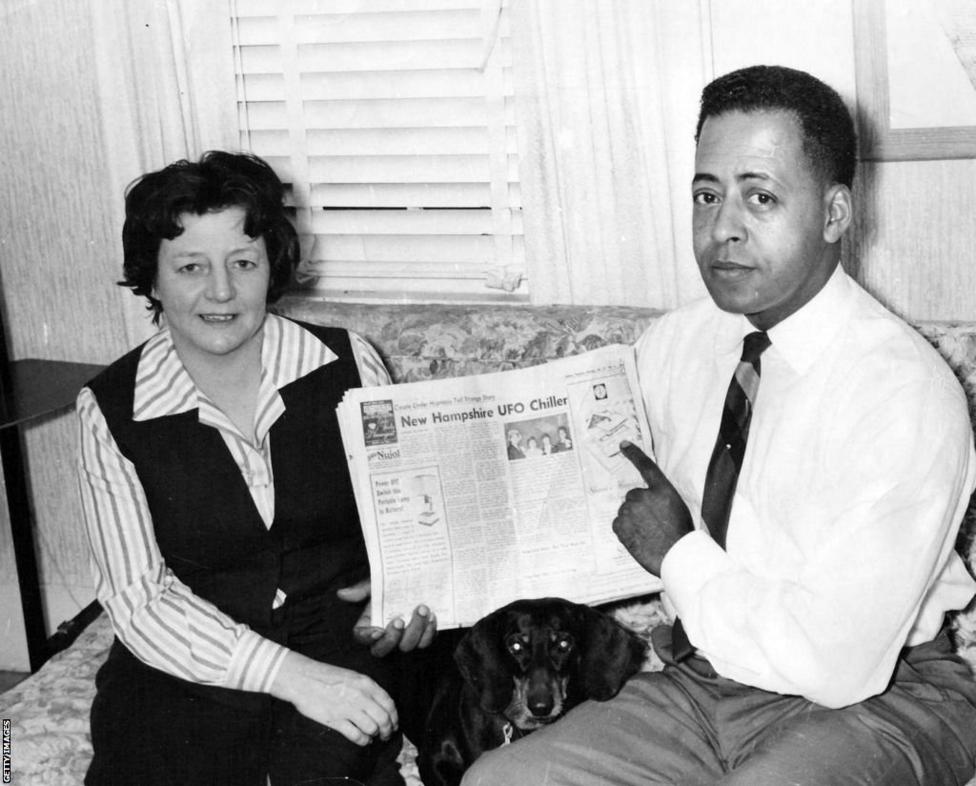 Barney died aged 46 – just seven years after that now-famous night – but Betty, who was his second wife and not a blood relative of Angela, lived until 2004.
They were an interracial couple, Barney an African American and Betty was white, something Hill believes adds an extra layer to this story.
"One of the most interesting parts of it is that it's a black guy getting abducted by aliens," Hill says.
"The Nope movie [directed by Jordan Peele] is pretty much my grandfather."
Nope was a hit UFO horror film released in 2022 and set in California.
Hill says: "The more we see stuff like Nope and things where black characters are involved in these extra-terrestrial things, then the more people are going to look at this story and think, 'Oh yeah, this actually happened.'
"You always see the typical guy in a trailer park and you don't think it can happen to someone who is not like that.
"It's kind of a cool thing to be able to see on TV and relate to. I think a lot of us are looking for answers out in the stars."
Betty went on to become heavily involved with UFO subculture, appearing in documentaries, attending conventions and telling the story from her perspective.
Hill feels her side of the family have been overlooked since her grandfather died. She says they have not been approached by Barack Obama's production company Higher Ground, which is making a Netflix film about the incident.
"Historically, my family wasn't really involved in the whole aftermath," Hill says. "After my grandfather died, his family just kind of got left out.
"My grandmother [Barney's first wife] hated everything about the story, she would say 'he's a liar' and 'him and that woman'.
"I think if anyone did want to reach out and talk about it, they'd probably be hurting my grandmother's feelings, so maybe it was out of respect."
Hill's interest in aliens burns as bright as ever and she has been watching closely as more stories emerge in the United States.
Nasa released a 36-page report in September after hundreds of UFO sightings, finding there was no evidence aliens were behind the unexplained phenomena, but the space agency could not rule out the possibility.
Hill says: "I definitely think there is life out there. To count out that aliens can possibly exist is ridiculous.
"There is just so little that we know still and I think whenever something comes out like that it's a blow to humankind's ego.
"Whether or not we've been in contact with that life is something up for debate but, if anything, there's a lot going on on this planet that we don't understand either, so people are having these moments where they all see the same thing – there has to be some reality to it."
'Focused on being in the moment'
For Hill, there is no time to wonder about what is out there in the galaxy this week – she returns to the octagon on Saturday to face Denise Gomes in Brazil.
The number 12 ranked strawweight is looking to bounce back from defeat against Mackenzie Dern in May and, despite having lost four of her last six fights, Hill believes she still has plenty to offer.
"Every fight is a fork in the road," says Hill.
"The difference between a win and a loss is so big in MMA that you have to ignore that it's a make-or-break situation literally every time you get out there.
"This fight I've been focusing a lot on being in the moment and not worrying a lot about what is going to happen after a win or loss.
"I'm just focusing on being in every moment in the lead-up and then in the fight, hoping to not let the pressure get to me in that moment."